High Performance Horizontal Machining Centers
AWEA's new debut, the AHM series, establishes a new benchmark for cost-effective horizontal machining centers. This series leads the pack when it comes to 3 axes travel, maximum tool diameter, and economical floor space. In performance terms, the AHM series delivers with a high torque 2-step gear type spindle, roller type linear guide ways on 3 axes, a one-piece cast rigid base, and a beyond comparison table load capacity up to 4,000 kg.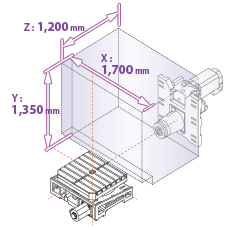 Substantial 3 Axes Travel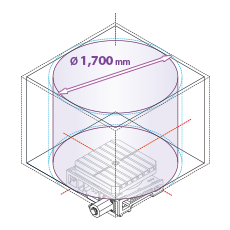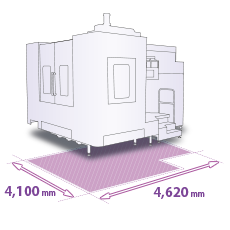 Powerful heavy-duty cutting capacity Workpieces with various complex surfaces can be done in a single setup.

The ultimate AHM series machining centers are designed for medium to large-sized valve, chamber, mold semi-finishing, and shell machining demands, as widely applied to the energy, vessel, automobile, heavy machinery, and other industries.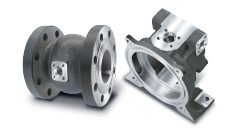 One-piece T-shaped base cast with high quality Meehanite® to enhance the table rigidity.
High torque 2-step gear spindle provides 776 Nm torque output at 320 rpm.
BBT50 dual surfaces contact spindle taper provide more powerful tool holding force.
High accuracy B-axis indexing work table can be positioned at 1° or 0.001° according to requirements.
The base is equipped with 4 Chip augers,chips can be removed from the processing area quickly to guarantee machining accuracy.
Front-exit chip conveyors reduce requirements of operating place and ease of maintenance.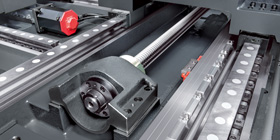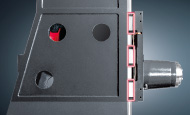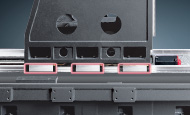 The 3 axes are equipped with roller type linear guide ways and high resolution linear scales to ensure optimal rigidity and positioning accuracy for the axial system.
The Y-axis supports the spindle head with 6 sliding blocks to meet the rigidity requirements of heavy cutting.
The column is supported by 6 large sliding blocks in Z-axis to ensure the stationarity and avoid deformation during machining.
Automatic pallet change system ( APC )
• The optional parallel type pallet exchanger increasing utilization by reducing non-cutting time due to loading and unloading of workpieces.
• The design realizes a compact structure, while maintaining reliable workpiece changing with the maximum table load capacity up to 4,000 kg.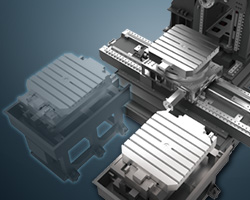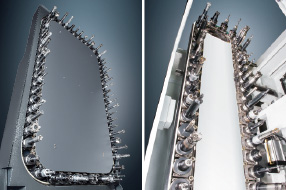 Highly reliable tool magazine
• Highly reliable chain type 40T ( optional 60T ) tool magazine design for diverse processing needs.
• 40T / 60T tool magazines can store large boring tools.

Top